Dental Implants
For Grand Island, Tonawanda, East Amherst, Orchard Park & the Surrounding Area
Get the better, appealing and permanent solution to missing teeth
Dental implants, sometimes called "tooth implants" or "teeth implants", are a way to permanently replace a missing or extracted tooth, or in extreme cases, replace all your teeth.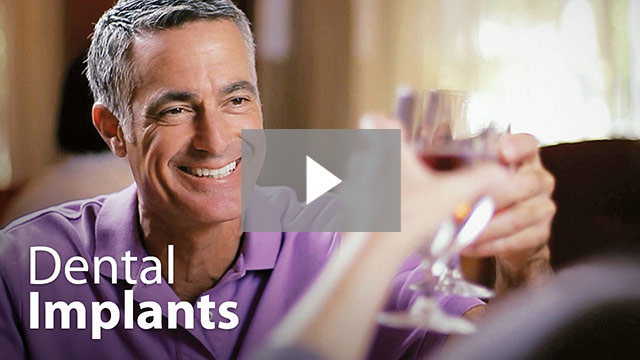 As with most surgeries, people have a lot of questions about the dental implant procedure, how dental implants work, what the benefits of permanent tooth replacement are, and if there are any downsides.
How do dental implants work?
We have more detail on the dental implant procedure, but at its core, a dental implant is a man made tooth root, that looks sort of like a screw.  When this artificial root is placed in your jaw, your natural jawbone bonds with the implant, creating a stable base, this can take several months, during which time you'll have a temporary crown.  When the base is finished bonding/healing you'll get a permanent crown, which will be indistinguishable from a natural tooth.  Sometimes the crown is placed directly on the implant, other times a device called an abutment connects the implant and crown together.
What are dental implants made of?
The artificial root of a dental implant is made of titanium.  In fact, dental implants are the result of a huge breakthrough in medical science called "osseintegration" pioneered by a Swedish orthopedic surgeon named Per-Ingvar Branemark who discovered titanium is the best material for integrating with bone.
How long do dental implants last?
There are two main parts to a dental implant; the titanium implant itself, and the crown.  Titanium dental implants are permanent. As long as you take care of them like the rest of your teeth, they will last as long as the rest of you does.  Crowns, on the other hand, typically have a lifespan of 10-15 years, depending on how well you maintain your dental hygiene, as well as where the tooth replacement is located.
What are the benefits of dental implants?
In addition to looking natural and being the next best thing to having a real tooth, dental implants are low maintenance compared to other tooth loss alternatives.  There's no worries about forgetting to put in your tooth, or it slipping out when eating.  In addition, dental implant teeth replacement actually stimulates bone growth, which can help prevent loss of other teeth.
What are the disadvantages of dental implants?
When something seems too good to be true, we're automatically wary of it.  Dental implants are safe and effective, but there are some downsides.
Because of how much work it entails, dental implants are costlier than other options.
Requires a skilled practitioner to do properly.
There is surgery involved.
Large time commitment while waiting for the implant to integrate with the bone.
Also, while Dental implants have a success rate of 97%, there are some people who aren't good candidates for the dental implant procedure, and a very small percentage (less than 2%) of patients' bodies reject the implant.
How do dental implants feel?
When done properly, a replacement tooth implant will feel exactly like a natural tooth.
How many dental implants can you have?
Technically, you can have as many titanium implants as you have teeth to be replaced. However, this usually isn't necessary, and a skilled dentist will help come up with the most effective program for your replacement teeth.
What's the difference between a dental implant vs veneers?
A dental implant requires the complete extraction of the existing tooth, and a total artificial replacement, from root to tip.  On the other hand, veneers don't require surgery, and are cosmetic fix to the existing tooth.  Imagine you had a car door covered in rust.  An economical fix would be to cut out the worst parts of rust, sand down what's existing, then build up and paint, similar to a veneer.  Or you could replace the entire door, the way we replace the entire tooth with a dental implant.  Both can be great options and a qualified dentist will help you find the right solution for you.
Why should I trust Better Smile with my dental implant surgery?
Better Smile cares about your long term health and satisfaction. We only use long lasting, high quality implants with high success rates.  We adamantly refuse to participate in the "mini dental implants" fad. As our founder Dr Riad says, "You wouldn't build your house on a mini foundation".  Better Smile constantly invests in cutting edge technology and equipment while also ensuring dentists are always receiving training in the best methods to ensure a beautiful, better smile.